China's trade bottleneck could be worse than Suez Canal fiasco.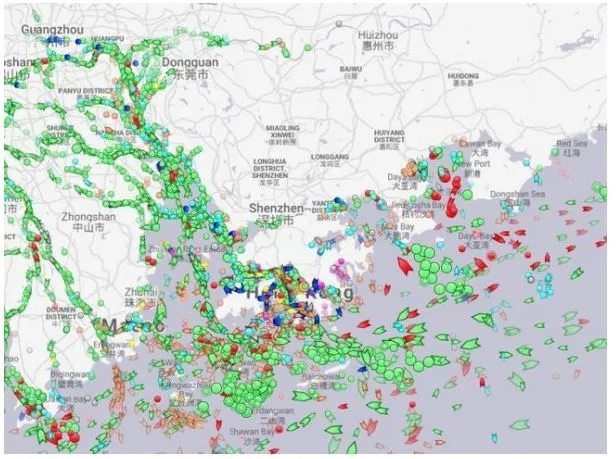 24 Jun 2021
There's currently the mother of all freight traffic jams far exceeding
March's Suez Canal fiasco. And the impact on Australia could be huge.
Worse than the Suez Canal disaster
More container loads of freight are being impacted than the entirety of the Suez Canal blockage. With the Delta strain continuing to impact logistics and shipping, this backlog may continue to grow despite the best efforts of port officials and shipping companies. CEO of Vespucci Marine Lars Jensen said: "From port handling in Yantian (port in Southern China) alone, the sheer number of containers (not vessels) impacted now exceed the number of containers impacted in Suez."
Ship congestion shown in southern China.
In 2020 the port of Yantian handled the equivalent of 13.3 million 6m shipping containers, including a quarter of all Chinese trade with the US. Despite its immense size, the Pearl River delta is currently packed with enormous container ships waiting for up to two weeks for berths to open up to dock. According to shipping brokers, there are currently around 160,000 shipping containers waiting at Yantian alone to be loaded on the dozens of ships currently waiting at anchor.
Maersk, the world's largest maritime freight company, advised on Thursday that 64 of its vessels had already skipped scheduled port calls at Yantian and Shekou. As shipping and logistics companies look for alternative ports to bypass the Yantian traffic jam, such as Nansha and Hong Kong, there are risks the backlog could spread to refrigerated freight in these ports due to a limited number of slots for these types of containers.
"Putting this in context, when Suez was blocked by the Ever Given, it impacted a daily flow of 55,000 teu. But that 'only' lasted six days. In Yantian, we are at 14 days and counting and there is the impact on Nansha and Shekou," he added.
Meanwhile, global shipping costs continue to rocket higher as a result of unprecedented demand for both transport and shipping containers. Shipping costs from Shanghai to Rotterdam (one of the world's busiest routes) have increased by over 500 per cent in the past year, to a record high of over $US10,000 ($A13,000) per 40Ft container.
---